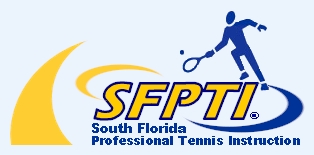 *** PRIVATE TENNIS LESSONS ***
Instructor: Andrew S. Rosz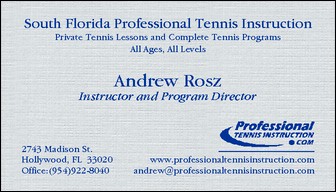 Andrew Rosz offers private tennis lessons and complete tennis programs for South Florida players of all ages and all levels from beginning to advanced. Tennis lessons are 60 minutes each and are scheduled at a time convenient to the student. For registration information, please CLICK HERE or contact Andrew Rosz at (954) 922-8040.

Topics of Private Tennis Instruction:

- Stroke analysis and evaluation; an objective assessment
- Weakness identification and improvement; a "fundamentals" approach
- Stroke development; technique, theory, and practice
- Strategic development; the psychological side of tennis
- Competitive conditioning; physical development and exercise drills
- Special request topics
- Advanced hitting practice
- Early development programs for children and juniors
- Special development programs for the "uncoordinated athlete"

Complete Tennis Programs:

- A Complete Beginning Tennis Program For Everyone

- Intermediate Excellence Tennis Program

- Youth Excellence Tennis Program

For a breif description of each tennis program CLICK HERE.

In general, private tennis lessons are best suited for players seeking only to improve on select portions of their game. Tennis programs are best suited for players seeking to improve on many aspects of their tennis game. Please refer to the accompanying program descriptions and course outlines for additional information about each tennis program.
| | |
| --- | --- |
| | Note: South Florida Professional Tennis Instruction also offers a complete line of expertly-written tennis instruction training manuals and book publications for players unable to attend tennis lessons in person, or for players who simply prefer to be "self-taught." For more information on our world-renowned SFPTI tennis instruction training manuals and book publications CLICK HERE. |
***