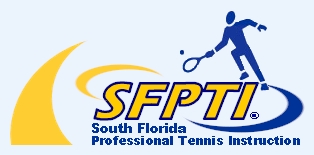 *** REGISTRATION INFORMATION ***
FOR TENNIS LESSONS AND PROGRAMS
Instructor and Program Director: Andrew S. Rosz
(954) 922-8040
Author; World Class Tennis Program, Master Tennis Instructor,
World Class Tennis Player, Tennis Tournament Champion
, and
Tennis Coach to some of the best tennis players in the world.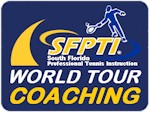 TENNIS LESSONS AND PROGRAM LESSONS
All tennis lessons and program lessons offered by South Florida Professional Tennis Instruction (SFPTI) are conducted as a series of "one-on-one" private tennis lessons; one student/one instructor. Group tennis lessons and/or tennis clinics are not available.
Please also note that SFPTI specializes in providing world class tennis training to aspiring players of all ages and all levels (including beginners) with a primary emphasis on learning to play tennis properly with the ultimate goal of developing the same world class tennis skills as commonly found in the world's top players.
***
Tennis lessons and program lessons are scheduled at a time convenient to the student. Lessons are 60 minutes each and provide sufficient time for an adequate warm-up, presentation of new topics, discussions and demonstrations, and student participation activities.
All lessons are conducted in an organized and professional manner which requires the student to be both attentive and dressed ready to play. Tennis balls and lesson materials will be provided. Promptness is essential. Since each lesson requires the entire 60 minutes, the student should arrive a few minutes early so that the lesson can begin promptly as scheduled.
SCHEDULE OF FEES
The cost of each one-hour tennis lesson, program lesson, or supplemental practice lesson is as follows depending on which tennis instructor you choose...
Tennis Lessons with Andrew
(Cost of each 1-hour tennis lesson)

One Adult....................................
$150
Two Adults..................................
$200
One Child Plus One Parent...............
$200
Two Children Plus One Parent..........
$250

Tennis Lessons with Steven
(Cost of each 1-hour tennis lesson)

One Adult....................................
$100
Two Adults..................................
$150
One Child Plus One Parent...............
$150
Two Children Plus One Parent..........
$200

5 Hours On-Court Training
$750
10 Hours On-Court Training
$1500
20 Hours On-Court Training
$3000

5 Hours On-Court Hitting Practice
$500
10 Hours On-Court Hitting Practice
$1000
20 Hours On-Court Hitting Practice
$2000
Please Note: Only cash and checks made payable to Andrew Rosz or Steven Rosz are accepted; no credit cards please. For more information and/or to schedule a lesson, please contact Andrew Rosz at (954) 922-8040, or Steven Rosz at (954) 554-7500.
TWO PRIMARY SOUTH FLORIDA TEACHING LOCATIONS
Hollywood, Florida - A newly-resurfaced hard-court facility which provides for an excellent learning environment and features four brand new state-of-the art fiberglass/acrylic courts with both water and rest room facilities.
Hollywood, Florida - A secluded private facility for a concentrated learning experience in a quiet setting and away from the crowds. There is no water or rest room facilities at this location, but this has seldom been a problem in the past. Most students simply bring their own jug of water, sunscreens, and other court essentials.
Note: Hollywood Florida is a beautiful city conveniently located midway between Ft. Lauderdale and Miami and features many hotels, restaurants, fine dining, entertainment, and a world-class beach. A favorite destination of both tourists and residents alike, there's always lots to do in Hollywood!
ALTERNATIVE TEACHING LOCATIONS
Alternative teaching locations are accommodated whenever possible. However, it shall be the student's responsibility to secure permission, court time, and to pay the necessary court fees (if any) for an alternative teaching location.
ABOUT OUR TENNIS INSTRUCTORS
SFPTI Tennis Director Andrew Rosz has teaching and authoring experience that spans over 30 years while still being an exceptionally active "World Class" tournament player. For those tennis students who simply demand the best, Andrew has combined his superior communication and teaching skills along with his "World Class" knowledge of tennis to bring you the absolute finest in professional tennis instruction and tennis programs available today. CLICK HERE to see Andrew in action...
SFPTI Tennis Instructor and aspiring tour player Steven Rosz is the son of Program Director Andrew Rosz. Expertly trained and schooled under the watchful eye of his dad Andrew, Steven is an accomplished tournament player and master tennis instructor in his own right; dedicated to teaching the essentials and fundamentals of proper tennis form to beginners and intermediate-level players of all ages at significant savings.
INTENSIVE TRAINING PROGRAMS FOR FOREIGN PLAYERS,
TOUR PLAYERS, OUT-OF-TOWN VISITORS, AND FUTURE CHAMPIONS
By special request, foreign players, tour players, and out-of-town visitors may reserve daily instructional lessons and/or blocks of training time. Four different programs are offered ranging from 5 to 20 hours of teaching and/or court time. Please CLICK HERE for more information...
***
| | |
| --- | --- |
| | Note: South Florida Professional Tennis Instruction also offers a complete line of expertly-written tennis instruction training manuals and book publications for players unable to attend tennis lessons and programs in person, or for players who simply prefer to be "self-taught." For more information on our world-renowned SFPTI tennis instruction training manuals and book publications CLICK HERE. |
***